There's nothing quite like a trip to the gun range. Whether its indoor or outdoor, there's something to be said about the planning of what guns to take, getting in some great practice while you're there, and then coming home and cleaning up your guns.
If you're like me, then it's a hobby that you really enjoy and do often. The only problem is that you have to take a decent amount of gear with you. From hearing protection, shooting glasses, targets, and all the way to even some gun oil just in case, it's quite a bit of stuff.
I actually remember my first few times to the range being pretty chaotic because I didn't have a good way to keep all of my gear straight and orderly. In fact, I would often forget to bring a few things, which may or may not ruin the trip.
Eventually, I got orderly and smart about it. I came up with a set list of gear that I needed, and I got neat on keeping that gear squared away. The main turning point for me was a proper range bag.
After doing a ton of research and checking out some bags in store, I finally found one that I feel like is a hidden gem. That's why in this article, I'm going to review the Blackhawk Sportster range bag. It's been my favorite bag for quite a while now.
Note: Before heading off to the range, let us all remember that there are always solid rules to follow for safety. It's super important to always practice good gun range etiquette. Having a good bag and keeping your gear squared away at the range is a big part of that.
What To Look For In A Range Bag
One of the most important parts of a trip to the range is your bag. Anyone who has been around firearms for a while knows how frustrating a bad range bag can be. No one wants to be fighting that old stuck zipper while you're on the range. Similarly, having a bad bag can also cause other problems. If there isn't adequate protection in the bag, it can scuff up your weapons.
While looking for a range bag, keep in mind the size that you need. On an average trip to the range, what do you bring with you? How big is your pistol or revolver? How many guns do you normally take? You need a bag that is large enough to fit your pistol as well as your hearing protection, eye protection, ammo, mags, and a speed loader or whatever other accessories you may have.
Another thing to keep in mind when purchasing a range bag is the durability. The old adage "you get what you pay for" generally applies to most things in life, but with range bags specifically, you definitely don't want a cheap, low quality one. With a cheap range bag, some of the hard edges of any of your accessories can easily wear through and ruin the bag.
In the process of looking for a great bag, I found some solid options out there. What I looked for was ones that were popular, had great reviews, high quality, and were decently priced. I put together a list of the best range bags over at Trek Warrior.  The one that I ended up choosing is the Blackhawk Sportster, which is in the middle of the list. Because I have other items from Blackhawk and trust the company, that's what pushed me to pull the trigger on the Sportster and I'm glad I did.
Blackhawk Sportster
Blackhawk is an extremely common name for tactical gear. They produce a large variety of holsters, apparel, tactical gear, and firearm accessories. The company is well respected throughout the industry and known for making high quality products. The Sportster Range Bag is no different. It is a quality range bag that is durable and affordable.
The bag measures 16 inches long by 9 inches wide by 8 inches deep. It has two pockets for pistols or revolvers, and the main compartment for your other gear. I found this to be an excellent size. There are larger and smaller bags available, but this one is perfect for your typical trip to the range. It easily fits two full-size firearms, four boxes of ammunition, spare magazines, a speed loader, full size over-the-ear hearing protection, and shooting glasses. There was also enough room for more ammunition, a holster, and a weapons cleaning kit. With enough skill, you could probably fit more into the bag.
If you are still worried that this isn't large enough for you, Blackhawk makes the Sportster Deluxe Range Bag, which measures 15 inches long by 11 inches wide by 10 inches deep.
Another excellent feature of the bag is how durable it is. It is made from 600 Denier Polyester, which is a decent material found in more affordable tactical bags. The polyester has a PVC laminate over the top of it. Due to these materials, the exterior of the bag is very tough. Nothing in your bag will rub through the material, and it will not easily tear. The seams also have locked stitching to give more strength and durability at these potentially weak points. This assures that your range bag will last a good while.
Inside the bag, it is more of the same quality. The firearms pouches have foam inside to protect the weapon, but they also have a soft fabric over top of the foam to protect the finish on your weapons. The exterior part of the foam is more rigid, for impact protection. The main middle compartment of the bag has a soft bottom to protect everything inside.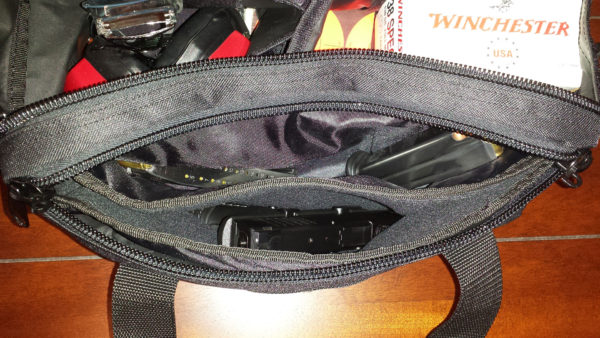 To open the bag, it has dual zippers to completely open the top of the bag and reveal the main compartment. Generally speaking, dual zippers on bags can be a little bit of a pain. They tend to get caught a lot, and you have to somewhat work them back and forth to get the bag open.
However, with the Blackhawk Sportster Range Bag, I don't experience this issue. The zippers are heavy duty, so they are unlikely to come off the track, and I don't have any issues with any of them getting caught. The best way to open the Sportster main compartment is to hold one end of the bag while you pull the dual zipper handle down the bag to open it. The main compartment is sealed with Velcro after both zippers are closed up. To open the side pockets, it is only one of these heavy duty zippers.
While it's not a major feature, it is worth mentioning that the bag is easily carried. The shoulder strap is wide, so that the pressure is spread out over a larger area. The handle straps wrap all of the way around the bag, so that the weight isn't held solely on some stitching on the sides of the bag.
Other random features that I like are the MOLLE webbing and the divider that comes with it for the middle compartment. The MOLLE webbing allows you to attach any pouches you might like to the outside of the bag. The divider for the middle compartment attaches to the walls with Velcro, which is a nice little feature to let you customize the bag.
As far as cons, the one thing that I would like to see improved is the snaps for the shoulder strap. They function fine, but I wouldn't mind seeing them made out of metal. The plastic appears to be durable, but will obviously break sooner than it would if it were made out of metal.
Conclusion
Overall, this is an excellent quality range bag that is pretty affordable for those of us on a tighter budget. While the MSRP is on the expensive side, you can usually find the bag on sale at different places. This is not a flashy bag, but it is functional and durable. It is made out of a tough material that is resistant to wear and tear.
Inside the bag, it has foam and soft fabric to protect your weapon and its finish. It is also an excellent size for a range bag, which will allow you to carry plenty of gear without needing something that's overly bulky.
About the Author
Mark Wright is a firearms enthusiast that hales from Texas. He loves spending time at the range and always learning more about shooting. Mark often shares what he knows at Trek Warrior.
The following two tabs change content below.
Tactical Gun Review welcomes Guest Posts from Consumers, Media Members, Gun Writers, and Bloggers.You can add your review through the "Join In" link at the top of the page or through the Contact form. Share your passion today!!!
Latest posts by Guest Post (see all)