A recent survey conducted of shooters and customers at online retailer AmmoForSale.com found shooters prefer .45 ACP to 9mm and .40 S&W, by very narrow margins.  The survey, which included input from more than 3,000 shooters concluded with the following results:
.45 ACP: 35%
9mm: 34%
.40 S&W: 30%
(Note, percentages do not equal 100% due to rounding)
"We're surprised at the results because it doesn't reflect our sales data at all," Mark Ollendale of AmmoForSale.com said. "As most shooters would expect, 9mm is a much better seller for most ammo sites than .45 ACP and .40 S&W, although all three calibers are among the top ten calibers available today."
As part of the greatest caliber celebration, AmmoForSale.com also gathered input from some of the top influencers on the internet, including tactical trainers, gun bloggers, and more. You can see the case for declaring both 9mm ammo and .45 ACP the greatest caliber ever with some unique tools for shooters.
AmmoForSale.com is an online retailer specializing in affordable ammunition with blitzkrieg fast shipping.
By: Mark Ollendale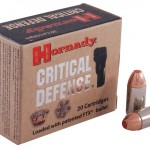 The following two tabs change content below.
Tactical Gun Review welcomes Guest Posts from Consumers, Media Members, Gun Writers, and Bloggers. You can add your review through the "Join In" link at the top of the page or through the Contact form. Share your passion today!!!
Latest posts by Guest Post (see all)