I decided to build up a new rifle dedicated for 3 gun.  While I am certainly no super 3gunner I am a decent shooter and know what makes a good gun.. I knew I wanted an 18″ rifle length gas system gun and set out to build the best one I could.. With parts from JP Rifles, Wilson Combat, HyperFire, Carbon Arms, Steiner Optics, AADMounts, EFX stocks and Seekins Precision this gun is built to run. Check out the detailed breakdown of the parts in this video.. I will be posting more on these individual parts shortly..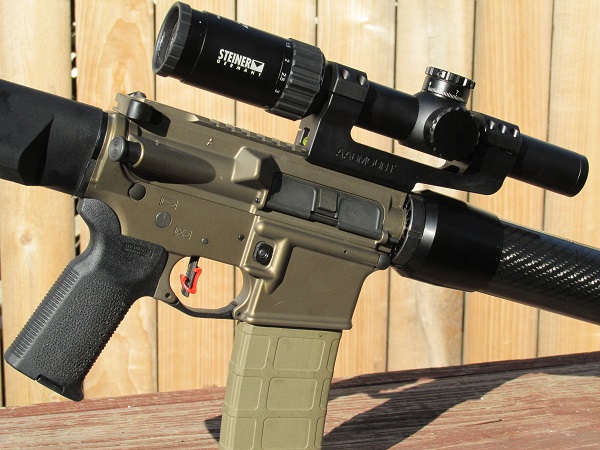 In the following video I cover the parts I used in this build and I am 100 % happy with all of them and most importantly how the complete gun came out. It is balanced feeling, has a good overall "feel" to it, no recoil, shoots flat and has been 100 % reliable from the first shot.  It is accurate and looks good too!
JP Rifles LMOS
The more time I spend with this rifle the more I like it.. I absolutely love the JP Rifles LMOS system!  The lack of recoil almost surprises me, odd to say, but if I have been shooting other rifles, even my other AR1 in 556 or 6.8 the first few shots with this rifle and lack of gun movement always is noticed.  The silent captured spring and JP coated lightweight bolt is SOOOOO smooth, pull the charging handle and it is so slick and quiet feeling.  I have got to try this on my 300 BO shooting suppressed subs!
Hyperfire 24c trigger
I am also really liking the Hyperfire 24c trigger. I use the yellow springs and it breaks around 3lbs, there is no creep whatosever, it has a super clean break, no overtravel and the reset is VERY positive and short.  I put the red trigger shoe on on the first notch and have't touched it since.  At first I thought it was a bit of a gimmick but it does provide a very solid engagement point for my trigger finger and every pull is consistent.  Installation was easy and only took a few minutes, just pay attention to the directions.
EFX-A1
I like the EFX A1 stock a lot as well, it is rock solid, comfortable both on my cheek and at my shoulder.  I get a good consistent cheek weld. The buttpad rotates from low ready to on target quickly smoothly.
CarbonArms 15″ handguard
The 15″ CarbonArms handguard is the standard for a 3gun rifle, it's very light at around 9oz for the handguard and aluminum barrel nut.  Installation is a snap, simply install the barre nut and torque to 45-60lbs using a standard armorers tool, then thread on the lockring followed by the handguard.  The final step is to unthread the lockring until it makes contact with the handguards threaded nut and tighten.
Wilson Combat 18″ SPR Barrel
I love Wilson Combat AR barrels, I have ran quite a few of them and they all have been shooters and are priced right.
Aero Precision Cerakoted Burnt Bronze receiver set
Aero Precision uppers and lowers are well done, they have a tight fit and are true to spec.  I like that they offer Cerakoted matched sets for really no extra money, hell of deal!
Wilson Combat upper and lower parts kits
I use these in all my builds, they are always good to go.
AADMount 30mm scope mount
I love this mount! It's slick, very clean lines, ultra sold and beefy but it weighs a lot less than it looks like it would.  While the +20 MOA cant is not needed for 3gun it doesn't hurt anything.  The built in bulb level is very nice to have.
Steiner Military 1-5
This is a flat out awesome scope.  OUTSTANDING glass, 1 MOA dot (at 5x) can be set VERY bright, yes, Aimpoint bright or down to NV levels and be very, very dim for low light use (I have hunted with it)  The BDC reticle is calibrated for 62g 556 running a 100 yard zero.  I was able to connect out to 400 yards first time out running XM193 with it on steel plates.
It has a huge eyebox and is very easy to get behind and is forgiving of head position.
C
The following two tabs change content below.
ccoker
Founding staff member, avid shooter, hunter, reloader and all around gun geek with an obsession for perfection