What better way to test some different products than doing a custom build.
I decided to do a 300 Blacokout and put together the following rig with some very nice parts.
300 Blackout build:
Black Rain billet receiver set anodized digital tan
12″ modular rail
Rainer Select 16″ carbine length gas system stainless barrel with a 1 in 8.5″ twist.
(Special thanks to Brandon Sneed with S A Texas arms, he does a great job on custom AR15 builds)
Midwest Industries low profile gas block
Tennesse Arms NP3 coated BCG
Templar Tactical Nemesis 30 suppressor mount
Aimpoint T1 2 MOA in American Defense mount
Wilson Combat LPK
Black Rain 3 lb trigger
Vltor A5 buffer tube system
Magpul CTR stock
BCM gunfighter grip
I will be running Barnes Vortex 110g blacktip ammo to get the test going..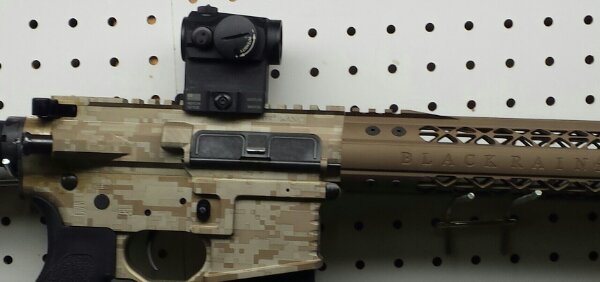 The following two tabs change content below.
ccoker
Founding staff member, avid shooter, hunter, reloader and all around gun geek with an obsession for perfection