Tag Archives:
S&W M&P 40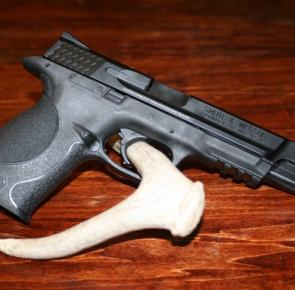 I bought this gun to have something to shoot in USPSA's Production division. My competition background is not very extensive. I have shot 6-7 matches at the club level in Single Stack division, eventually earning a "C" classification.
I was drawn to the gun because of the longer sight radius compared to the regular M&P, and it seemed to be ready to go out of the box minus another 3 magazines. Also I had shot the M&P 9 full size before and did reasonably well with it.
After getting the pistol, I was not very fond of the trigger out of the box. After some dry fire and shooting it did get better, but I was impatient for it to smooth out and ended up installing Apex Tactical's Competition Action Enhancement Kit which did wonders. Also changing to the large backstrap improved the trigger pull too.
I have shot 2 matches with it so far and am very happy with the gun. Aside from the slide dropping on emergency reloads, I really can not find fault with this gun. It's a very soft shooting .40S&W, and with my minor power factor reloads the recoil is very tame. One match I shot was at night, with a flashlight in one hand and the M&P in the other. Shooting a gun in .40S&W one handed usually results in a lot of muzzle flip, but the M&P Pro really shines here with very little flip and was quick to come back on target.
Ergonomics
Long sight radius
Soft recoil
Interchangeable backstraps
Factory trigger is gritty and needs a lot of shooting and dry fire to smooth out (or some aftermarket parts)
Slide drops when inserting a magazine (some would view this as a Pro, not a Con, I'm still undecided)
I love the Pro. I'm considering picking up a smaller one for concealed carry.
Low price