Leupold listens to the multi gun shooter and responds with a new scope. When we saw the new Leupold VX6 1-6×24 scope we were really excited about the power range. They were showing great hunting reticles but nothing with a way to shoot long distance with hold over points. We discussed the need for this for 3 gunners and apparently so did others at SHOT in January.
We kept in contact with Leupold over the next few months and it was looking like this may come to life. Fast forward and I get word that yes, it is going to be a reality! Several weeks ago I received a pre-production sample to test. I am happy to report it is a fantastic scope! Using the same illumination technology as in the very well received VX-R scopes introduced last year. Lead free glass with blackened edges to reduce stray light reflections provide a scope with both outstanding glass and a very well executed illumination system.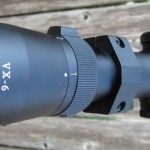 The reticle is the same as used in the Patrol 1.25-4 which is comprised of a circle around the center crosshairs and 10 mil in diameter at 6x at 100 yards.
There is a hash mark 1/2 way beteen the center crosshair intersection and the circle for a 2.5 mil reference.
There are additional 2.5 mil hash marks beneath the circle.
Here's a pic of the reticle from the 1.25-4 Patrol taken at 75 yards to give you a good look at the reticle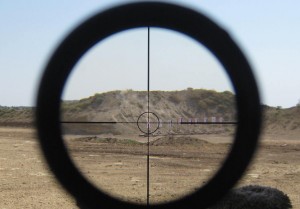 Leupold VX6 Specs include:
Firedot SPR Reticle int the 2nd focal plane
30mm tube
Fast Focus Eyepiece
Xtended Twilight Lens System
DiamondCoat 2 (Scratch Resistance Lens)
Lead and Arsenic-Free Glass Lenses
Weight 13,4 Oz
Length 10.7″
Eye relief 3.8
Field of view at 100 yards 115ft at 1x
Capped mil based windage and elevation turrets with a resettable zero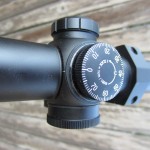 A pic of the reticle at 250 yards at 4x (from the Patrol 1.25-4)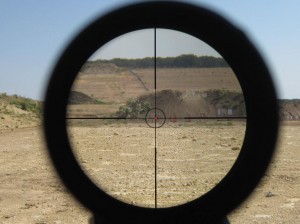 I have ran this scope with a 200 yard zero with 77g OTM match loads at 2750 and this makes the first mark down my 500 yard hold.
I slightly tweaked my zero to make it a 475 yard hold so I can shoot 450 or 500 yards easily.
The glass is VERY good as is the illumination which is day time bright in Texas sun. It also can be set to be very dim, perfect for low light hunting.
The glass is better than the Patrol series, both use the lead free glass which is extremely clear and better than the Trijicon Accupoint 1-4s I have.
We found the reticle quite fast shooting IPSC targets up close and transitioning, with or without illumination on.
Shooting plates at 100 yards on 1x with the dot lit was very easy shooting offhand and fast.
The Leupold VX6 has the Xtended Twilight Lens coatings which provide even better image resolution. I even tested this scope against my S&B 1.5-6×42 in very low light into darkness and I was very, very surprised at how well it did, even at 6x magnification. With the much smaller objective size and therefore smaller exit pupil diameter I would have thought it would have been a slam dunk test with the the S&B being significantly brighter when it was 45 minutes past sundown, that was not the case much to my surprise.
Shooting at 500 yards in fading light on a 10×12 steel plate that had very little white paint on it against a dirt berm background provided very little contrast. In fact, it was invisible to the naked eye. We had concluded an afternoon of shooting in the tac bays then decided to drive to a vantage point where we knew there was a 500 yard rise we could go prone on and shoot. When we got there, the shooting lane is a road that doesn't get used and was overgrown with vegetation, we were not sure we would be able to see any of the plates we had setup. And in fact did require a scope to be able to see if the plate was available. It was, I went prone and lined up dead center on it with the first hashmark, exhaled slowly and squeezed the trigger. A split second later we heard the heartwarming sound of a 77g Sierra Matchking hit metal! We went through about a 1/2 box of Black Hills 77g OTM 5.56 loads and each time it was the same result. "donk" , man, I love that! I will say that the glass in this scope is very impressive. Next we pulled out the 308 with a USO 3-17 for a comparison shoot. The resolution is really outstanding in this Leupold.
Stay tuned for part2 with more pictures and videos!
UPDATE: THIS SCOPE IS NOW AVAILABLE FROM THE CUSTOM SHOP AT LEUPOLD
Here is the gun I am running it on
Douglas 1 in 8 twist, 5.56 chamber, SPR profile stainless match barrel
Miller Precision Comp
PRI carbon handguard, adj gasblock and charging handle
Vltor EMOD A5 stock
CMC flat tactical 3lb SS trigger
By Staff Writer: Charles Coker

The following two tabs change content below.
ccoker
Founding staff member, avid shooter, hunter, reloader and all around gun geek with an obsession for perfection