Safariland 3gun gear review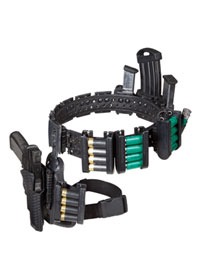 We are happy to report that Safariland is providing some of their outstanding gear for TGR for 3 gun competition!
Vice president Scott Carnahan, an active competitor himself provides some info on how their ELS system works.
It's a very cool modular setup allowing you to quickly reconfigure your rig for different stages.

Safariland also makes a very slick multigun bag so you can have rifle, shotgun, pistol and your accessories in one bag.
Model 4556
3-Gun Competition Case
• Rugged ballistic pack cloth construction
• Heavy-duty lockable zippers, two adjustable outside accessory pouches
• Large dual handgun/accessory pouch with individual hook and loop enclosed handgun storage areas and 4 pistol mag pouches large enough for extended magazines
• Closed-cell protective foam padding and 2-in. perimeter lip
• Assorted accessory pockets inside case
• Adjustable padded shoulder harness for shoulder carry
• Included adjustable backpack-style carry straps that tuck away in storage pocket when not in use
• Unique zippered barrel expansion slot on side of case can be opened to allow use of longer firearms (up to 51") while still fully encompassing weapon muzzle
• 46" overall length (with expansion slot)
• Available in Black