Ruger 10/22 Tactical VLEH Review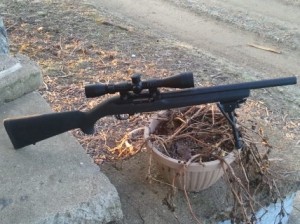 Today I want to talk about the Ruger Tactical 10/22 VLEH. I picked one up the other day from Johnsons Sporting Goods in Adrian MI for a tad over 400$ This is the bull barreled 10/22 rifle. It comes with a 16 inch hammer forged fluted .920 heavy barrel.The action seems to have a better trigger than what I remember from the last stock 10/22 I fired but that was a long time ago. The trigger is pretty good. The action comes in a Hogue rubber stock similar to the one that Remington 700 SPS's come in. This one though is not free floating. I couldn't get a piece of paper between the barrel and stock at all. You also get a knock off Harris style short bi-pod with adjustable legs and it comes with a scope mount rail for the top of the receiver. I was unhappy with the tapping for this scope mount. The front screw hole stripped out WAY to easy

So I will have to take it in and have it re-tapped. It just stripped right out immediately, so be careful. The finish is a textured flat black and quite nice looking and seemingly tough.
I took it right out with my test scope, a 3×9 Leupold, (not the one I won) with Federal Bulk pack it was grouping not so good (1 1/2-2plus inches at 60 yards) and I don't blame the stripped screw, the mount is still solid. I read CCI mini mags are the way to go. I ordered a bunch of junk for it so I'm going to shoot for record when I get all the goodies in. After doing some further research my expectations of this rifle may have been a bit too high. I had a custom job I rarely fired and sold off. I swear that thing would shoot out a dime at the same range with most ammo but it wasn't very good as far as reliability goes, jammed a lot. This is due to a match chamber mostly. This Ruger bull barrel does not have a match chamber but feeds everything perfectly, so it's a give and take for accuracy vs. reliability. We'll see what she'll do with some match ammo, some CCI's and a different stock.
So I ordered a Tapco Intrafuse pistol grip stock with a quad-rail up front. I want to "tacti-cool" this thing up. If you do this make sure you get the stock for the heavy barrel as there are 2 models of the stock. I need to stop at a buddy's shop and get some rings yet but I ordered a Weaver KASPA 3×12 scope. It seemed promising in the dealers, solid and nice bright glass and I found one for $172 which was pretty cheap on eBay so I picked it up. I figure it will be a good 22 scope. It's a "tactical" scope. With an illuminated BDC reticle for a 5.56. I'll review the scope separately so more on that later. I plan to pick up 8-10 Ruger factory 25 round mags too but I am waiting till they go back on sale. So for now I just bought 2, I was getting really tired of reloading the 10 round it came with.
On another note, thinking about my recommendation for this as a budget survival/defense rifle in Pt. 1 of my Food for thought Series. I think it's a great choice so far. Going a bit further though than a stock, optics and hi-cap magazines. I was looking at a bolt hold open trigger group. After consideration I decided to pass on this option for a couple reasons. 1. I don't believe you'll even know it locked open, with an M4 you can feel it, FN Fal, the same thing, M1 Garand you can feel and hear it. With this I doubt there's enough inertia for you to know the bolt locked back. You should be trying to count your shots anyway, my "internal shot counter" works pretty darn good. I generally even know roughly what shooters around me have left. The second reason is seeing's how you have to reach over the top or remove your firing hand to release the bolt anyways you may as well just rack the bolt again, it's like an extra inch of movement, not worth the $$ spent or the fact that you will NOT, SAY AGAIN NOT, be able to use magazines that have not been modified to work with the new hold open trigger group. So you would be limited to the magazines you had converted, just not worth the trade for something I don't think you'd even feel when it worked.
Well it's a week later now and my stock is back ordered, the scope rail is fixed and my rings aren't here yet for the Weaver scope. I will just review the Weaver by itself some other day. I did get in a batch of CCI ammo, Mini-mags and Stingers both. So back out with the Leupold and the stock rifle I went. MUCH MUCH!!! better groups. I traced some quarters onto paper plates and set them up at 70 yards. I only fired maybe 2-3 shots out of 70-80 rounds that didn't end up hitting my quarter size circles. Probably me. It shot WORLDS better with CCI ammo. Incidentally while the mini-mags were good, the Stingers were even tighter. Often times with 5 shot groups that could be covered with dimes and nickels. So the CCI does seem to be the way to go. Reliability was 100%. I had zero malfunctions of any kind. For a 22 those Stingers are moving out of that barrel too. Good power round for a 22lr. 1640 fps. I am going to order a 5000 round case of them. Great round.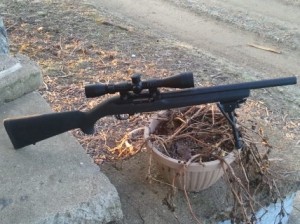 So I guess that about wraps it up, really nice rifle. A tried and proven action and a good barrel offering excellent accuracy while maintaining reliability. You should have no problem shooting squirrels heads off or punching nice groups in paper. I said before I thought this was an excellent budget defensive rifle, I still think it. Accurate, reliable and a ton of aftermarket stuff and for less than the price of 1 good M-4 carbine you can have a 10/22 fully decked out with 5000 rounds of ammo and magazines. It beats wishing you had a gun. All in all I give it 2 thumbs up. As the rest of my stuff gets here I'll update the pics too. Maybe re-shoot with the new stock.
As always thanks for reading and happy shooting.
By: Cary Kieffer
The following two tabs change content below.
Cary Kieffer
USMC Infantry/Combat Veteran - Current LEO.
Latest posts by Cary Kieffer (see all)