Reticle picture collection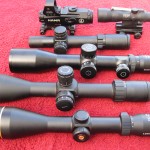 We all want to know what various reticles look like in the real world.   I been talking reticle pics for a few years and plan to post them all here..
In the meantime, here's a few to start
Leupold VXR Patrol at 1X 75 yards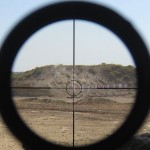 Leupold VXR Patrol at 4x at 250 yards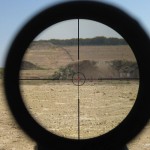 Leupold Mark 8 1.1-8 CQBSS at 500 yards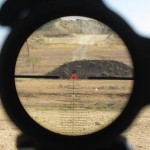 Leupold VRX 3-9×40 TMR at 250 yards, max illumination, 9 power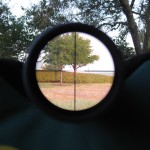 Leupold VRX 3-9×40 TMR at 250 yards with the dot at , 9 power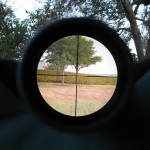 Trijicon Accupoint 3-9×40 Mildot / Green dot at 250 yards. 9 power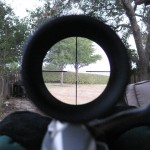 Observations between the two above scopes:
We had a few guys over yesterday evening watching the field into the evening to darkness.  There were about 20 deer through the field at varying distances of 100 to 250 yards.
We could not distinguish any difference in brightness or clarity between the Firedot 3-9×40 and the Accupoint 3-9×40.
My only observation was the mil hashmarks could stand to be a tad wider than the 1/2 mils as light faded it got hard to distinguish between them.  I feel the Accopoints mildots were ever so slightly easier to distinguish.
S&B 3-12×50 PMI at 250 yards, reticle set to max, 9 power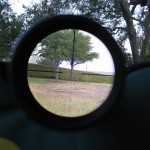 Weaver Tactical 3-15×50 FFP mildot at 250 yards, reticle off, 9 power
Weaver Tactical 3-15×50 FFP mildot at 250 yards, reticle on green at 2, 9 power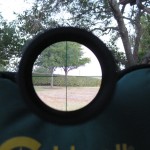 Trijicon ACOG TA33 Green Horseshoe reticle at 250 yards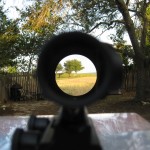 Leupold HAMR 4x at 25o yards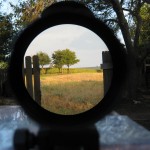 Leupold HAMR 4x at 25o yards, illumination on medium