Press Release: Nosler Varmageddon AR Varmint Rifle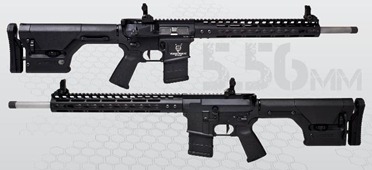 Nosler®, long known for manufacturing some of the world's finest varmint bullets and ammunition has partnered up with the master AR builders at Noveske® to unleash the new Varmageddon™ Signature Series AR Varmint Rifle. Designed to be the ultimate varmint hunting platform, the Varmageddon™ AR is equally at home in the prairie dog towns of the plains, or calling coyotes in the sagebrush.
Available as rifle only for $2295 or in a complete accessory package that includes a Varmageddon™ edition Leupold® VX-3 LR 4.5-14×50 scope featuring the CDS™ turret calibrated to match Nosler's .223 55gr Tipped Varmageddon™ ammunition for $3195.
This unprecedented collaboration between Nosler®, Noveske® and Leupold® takes all the work out of choosing a varmint hunting system. The Varmageddon™ AR rifle comes standard with features commonly found only on custom AR rifles:
18″ 1:8 Twist Stainless Steel Barrel
5.56mm/223 Rem Chamber
Extended Feed Ramps
Bead blasted finish on barrel
1/2×28 threads w/ thread protector
Low profile gas block, pinned to barrel
Forged Vltor MUR upper receiver
Free floated 13.5″ NSR Handguard featuring the revolutionary KeyMod system
Shot peened and MP tested bolt
Soft Case
Auto carrier with properly staked carrier key
BCMGUNFIGHTER™ charging handle
Intermediate length gas system
Noveske® Signature Back Up Iron Sights by Troy® Industries
One 20 round and one 30 round PMAG® by Magpul®
Forged lower with:
-Mil-Spec receiver extension
-Geissele® SD-E Trigger
-Magpul® PRS® Stock
-Magpul® MOE® Grip
The Varmageddon™ AR Package includes everything listed above as well as the following:
Leupold® VX-3 LR 4.5-14x50mm scope  with calibrated CDS™ turret
Leuopld® Mk2 IMS Scope Mount
2-point sling
Harris 6″-9″ Bipod
1 x KeyMod Stud
1 x KeyMod QD Sling Mount
1 x KeyMod 3″ Picatinny 1913 rail section
2 boxes of Varmageddon 223 Rem  55gr. FBSP Ammunition