TGR Staff Review: Leupold 1.25-4 Review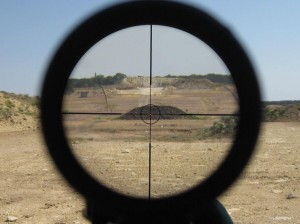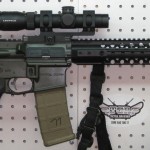 I am very impressed with the new Leupold VXR Firedot line of scopes…
Glass is right there with the Trijicon Accupoints, a scope line I am very familiar with and are universally well regarded for glass quality and low light hunting usefulness.
Clear glass and a properly done dot that i can be just bright enough to contrast against the target without being so bright it overpowers your view like a lot of scopes are.
In general, I really like these new Leupolds, they have made noticeable improvements in glass and I put these VXRs as good if not better than the Mark 4s made in the last year.
They don't have the twilight lens coatings but are the only ones to use their new lead free glass.  Great clarity and resolution.
This review for the 1.24-5 features:
Exposed mil turrets with 5 mils per revolution, 3 total.
SPR reticle, same as the Mark 4 1.5-5 has had, 10Mil circle with has marks at 2.5mils
30mm tube
reticle is nice and bold and well defined
push-buttom illumination, flashes at both maximum and minimum settings and cycles through
compact and light
Ok, enough talk about features, how does it work in the field?
One thing that I think will hurt their sales is the lack of a true 1x at the bottom, but in all honesty,  I don't think that should be a show stopper.  Now, would I use this for a home defense optic? probably not, I would prefer to run and do run and Aimpoint T1.  Outside of say 10 yards I don't have any issues with engaging multiple targets fast.  It's not finicky on eye relief and feel I can get on target very fast and easy.  The circle is fast and the illuminated dot gets PLENTY bright even if bright Texas noon sun.  This is something I have heard a few people say it's not bright enough but neither me nor a few friends that shot it yesterday felt that way at all.
I am running a 250 yard zero with 75/77g match ammo.  This gives me a +3″ at 100 yards with both 55g and 75/77g ammo.  The 2.5 mil hash serves as my 500 yard hold.
In short, for 3 gun use out to 250 I can run 55g 223 or 5.56 and hold dead on, and switch to heavier ammo for the 500 yard targets which are much better in the wind.
On my Wilson Combat 16″ 5.56 1 in 7 stainless I had no problem at 500 yard 12″ plates.
I plan to run this in some 3 gun matches and feel confident it will work out very well.
Please note that the lit reticle is much more obvious in person..
 Like the Leupold Patrol series?
Enter a chance to win your own, for free!
http://tacticalgunreview.com/610-2/
The following two tabs change content below.
Latest posts by Consumer review (see all)