Leupold® Offers Reticle Calibrated for 300 AAC Blackout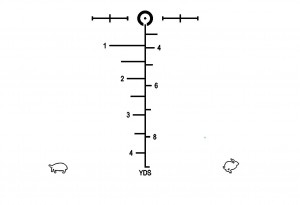 BEAVERTON, Ore. — Leupold® Tactical Optics has partnered with Advanced Armament Corporation® to create a reticle calibrated to the new .300 AAC Blackout cartridge.
Based on Leupold's CM-R2™ reticle line, the 300 Blackout reticle allows operators to quickly and easily determine holdovers for both the supersonic and subsonic loadings of the new round.
"The versatility in loading options that makes the 300 Blackout so popular also presented the greatest challenge in designing a calibrated reticle," said Kevin Trepa, vice president, tactical division for Leupold & Stevens, Inc.  "We wanted this reticle to provide military, law enforcement and competitive shooters with a one-stop optic that could handle everything the 300 Blackout has to offer."
At the heart of the 300 Blackout reticle is a 0.5 minute-of-angle (MOA) dot surrounded by a 5.0 MOA circle.  This gives operators the perfect balance between speed and accuracy.
Hash marks on the horizontal stadia provide leads in 5-, 10- and 15-mph increments at 100 yards.  Marks on the left side are calibrated to subsonic loads, while the leads on the right side are to be used with the lighter, supersonic loads.  A small tortoise and hare are set on the appropriate side of the reticle as a reminder.
Vertical hash marks are also dual purpose, with the subsonic holdovers set in 50-yard increments out to 400 yards and supersonic holdovers in 100-yard increments out to 900 yards.  For maximum efficacy, Leupold recommends zeroing at 200 yards using supersonic ammunition.  Once set at 200 yards, the center dot of the reticle serves as a 50-yard zero for subsonic ammunition.
Introduced by Advanced Armament Corporation, the 300 AAC Blackout provides military, law enforcement and competitive shooters with the ability to shoot 220gr subsonic rounds, which provide far greater stopping power and energy than pistol-caliber carbines.  In conjunction with a suppressor, the 300 AAC Blackout is an outstanding choice for CQB operations.
The versatile .30-caliber cartridge can also be loaded with bullets as light as 110 grains, giving hunters and long-range shooters a supersonic option in the same weapons platform.  With the 300 Blackout reticle, there's no need to rezero or change optics when changing loads.
Supported by a team of dedicated engineers, the Leupold Tactical Optics staff works with American warfighters, law enforcement personnel and competitive shooters to design and build products that meet their needs.  Currently, more long-range Leupold Tactical Optics are in service with the U.S. military than any other brand.
Leupold & Stevens, Inc., the preeminent American-owned optics company, employs hundreds of people in its state-of-the-art manufacturing facility near Beaverton, Ore.  Family owned and operated, Leupold offers products that are sold worldwide to hunters, competitive shooters, American military warfighters, law enforcement personnel and wildlife observers.  The product line includes rifle, handgun and spotting scopes; binoculars; rangefinders; trail cameras; mounting systems; and optical tools and accessories.
The following two tabs change content below.
Latest posts by Consumer review (see all)