Leupold D-EVO (Dual Enhanced View Optic)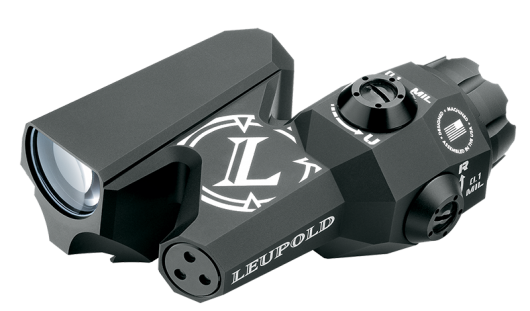 SHOT Show:  Dual View Technology.  Leupold introduces the D-EVO (Dual Enhanced View Optic), a revolutionary new tool for the tactical rifleman, competitive shooter and anyone who needs the speed of a 1X red dot sight and the precision of a 6X magnified optic, all with just the twitch of the eye.
The cutting-edge Z-shaped D-EVO is designed to work with the Leupold Carbine Optic, or any other brand of red dot sight. By looking around the red dot sight, D-EVO delivers pinpoint 6X accuracy with a simple shift of the eye.
Revolutionary solutions require original thinking. Leupold engineers have innovated again with the all new Dual-Enhanced View Optic (D-EVO™). A unique, innovative design allows the 6x20mm D-EVO to be paired perfectly with the Leupold Carbine Optic (LCO™), or virtually any red dot sight, to deliver a bold aiming point for reflexive shots and a magnified image for long-range precision with the mere movement of your eye.
The exclusive Close Mid-Range Reticle with Wind Holds (CMR-W) allows users to successfully estimate range and engage targets with greater precision, speed, and flexibility and the hold-overs are compatible with 5.56/.223 and 7.62/.308 cartridges. The reticle features a 0.5 MOA dot surrounded by a 5 MOA circle, mil-based ranging features and windage hold points.
The D-EVO utilizes minimal rail space, is waterproof to 66 feet, and is backed by the Leupold Gold Ring Lifetime Guarantee.
6061-T6 Aircraft Quality Aluminum
Bullet Drop Compensatoin
1/10th MIL Click Adjustment
100% Waterproof and Fog Proof
MSRP $1875
www.Leupold.com