Consumer Review: FNH USA FNP-45 Tactical Review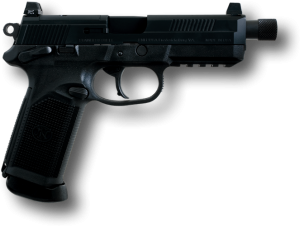 When I first looked at the FNP-45 Tactical, I started counting the features. Wow. Ambidextrous safety, slide release, magazine release. Double-stack .45 ACP that fits my medium sized hand. It fires as first shot double action or single action. The ambidextrous safety also acts as a decocker. Perfection.
I have a suppressor, so the threaded barrel was a must. They didn't stop there. The high profile Trijicon night sights prove that the folks at FNH USA were serious about this tactical weapon.
Tactical rail fits the tact light for night-time action. And if thats not enough, the cut and threaded the slide for holo sights, that just happens to co-witness the sights that are tall enough to use with the suppressor in place. The FDE polymer frame and cerakoted slide are simply too cool and look wonderful. OK… they didn't stop there. It comes with three 15 round magazines and a velcro configurable padded case that is great for taking it all to the range. I estimated that this kit comes with about $600 worth of features that I would've spent. Though its not cheap, it comes as a high quality weapon system in .45 caliber. If I had decided to design the ideal tactical weapon, it would have been exactly like this one.
By: Rod Gregg
The following two tabs change content below.
Latest posts by Consumer review (see all)